Fall Bundle Flavor Toothpicks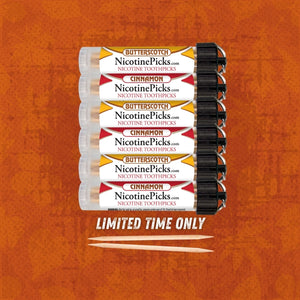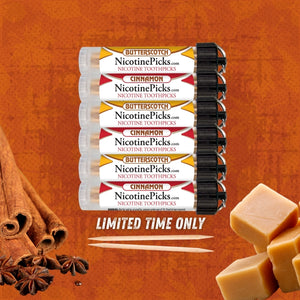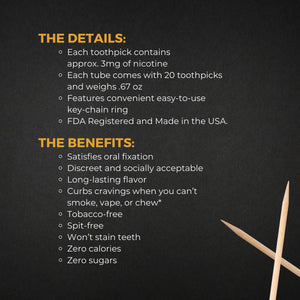 Product image 1

Product image 2

Product image 3

Embrace the cooler temperatures with the warm mix of cinnamon and butterscotch. If they don't make you feel warm and cozy while fighting cravings, perhaps knowing you're saving money with our seasonal bundle will give you the tingle you desire.  Available for a limited time only. This bundle includes three tubes of cinnamon and three tubes of butterscotch.
Whether you're new to our toothpicks or just a lover of our classics flavors, this Starter Pack is for you.  It's a great way to sample our most commonly liked items at a discounted price!  The pack includes one tube of Cinnamon, one tube of Spearmint, and one tube of Peppermint.  
THE DETAILS:
Each toothpick contains approximately 3mg of nicotine
Each tube comes with 20 toothpicks and weighs approximately .67 oz
Features convenient easy-to-use key-chain ring
FDA Registered and Made in the USA.
THE BENEFITS:

Zero calories

Zero sugars

Satisfies oral fixation

Discreet and socially acceptable

Long-lasting flavor

Curbs cravings when you can't smoke, vape, or chew*

Tobacco-free
Spit-free

Won't stain teeth
Not for sale to, or used by, anyone under 21 years of age. By purchasing NicotinePicks™ you are agreeing that you are at least 21 years old.
FDA Registered.  Made in the USA.